All your qualitative research (and stakeholders)
- in one place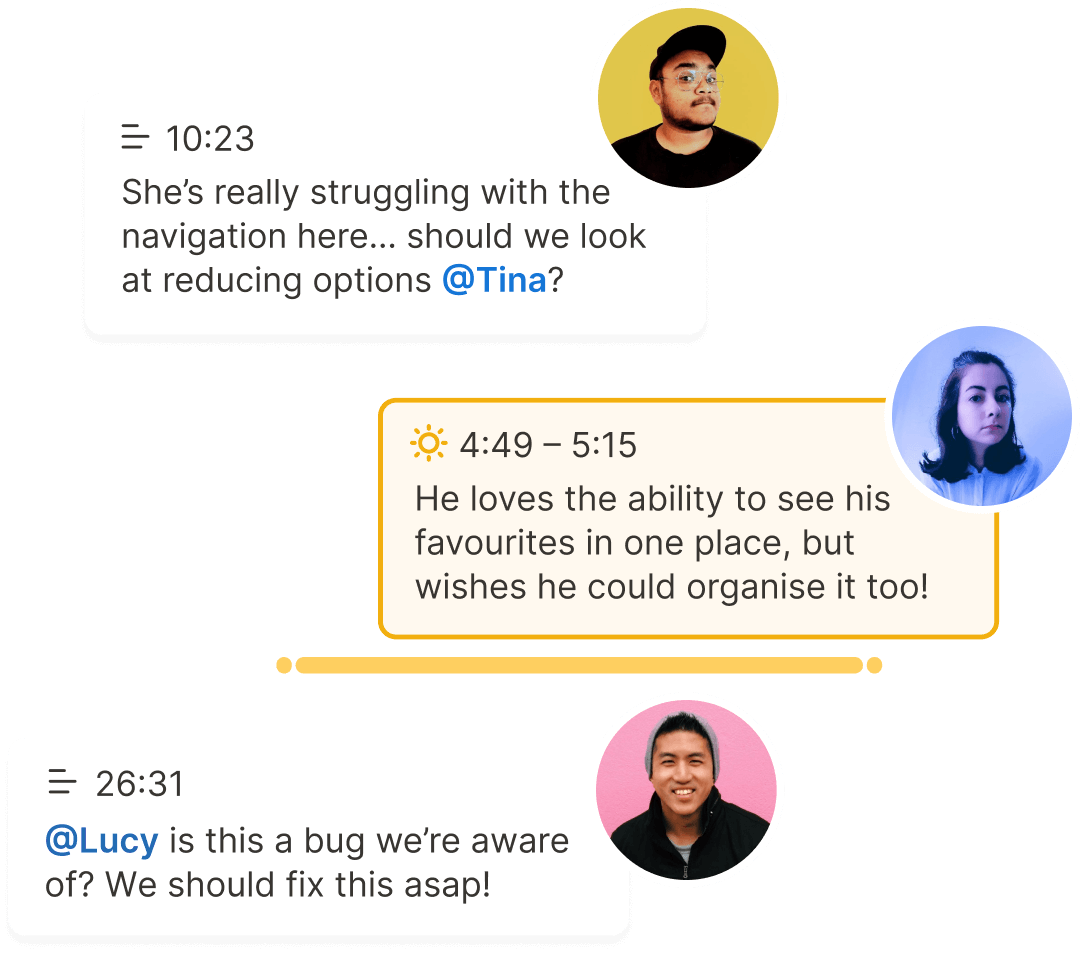 virtual observation room
The best way to watch research
Along with our top-tier participant experience, Lookback provides the best observation experience for your teammates.
Complete with live chat, tagging, one-click highlight reel generation, and more. With Lookback, aligning your team on customer needs has never been easer.
Explore features
BUILT FOR TEAMS
Supporting your Team's Research Needs
for researchers

Make research fun and exciting for your team, as they watch you do your research magic.

Create research highlights and share them with your entire organization. Lookback streamlines your research process, from session to share-out.

for product teams

Get close to the customer by jumping into usability tests and user interviews sessions, kick off conversations with teammates and quickly prioritize your next feature builds based your user's needs.

for stakeholders

Grow your culture of customer-centricity through research watch parties, highlight reels, transcriptions, and more features to support how your team works.

Lookback gives you the tools to make customer insights part of every strategic decision.
usability testing
Usability sessions participants will love
Capture the full experience of your customer by recording their screen, their voice, and expressions as they navigate your product experience.
Learn about Usability Testing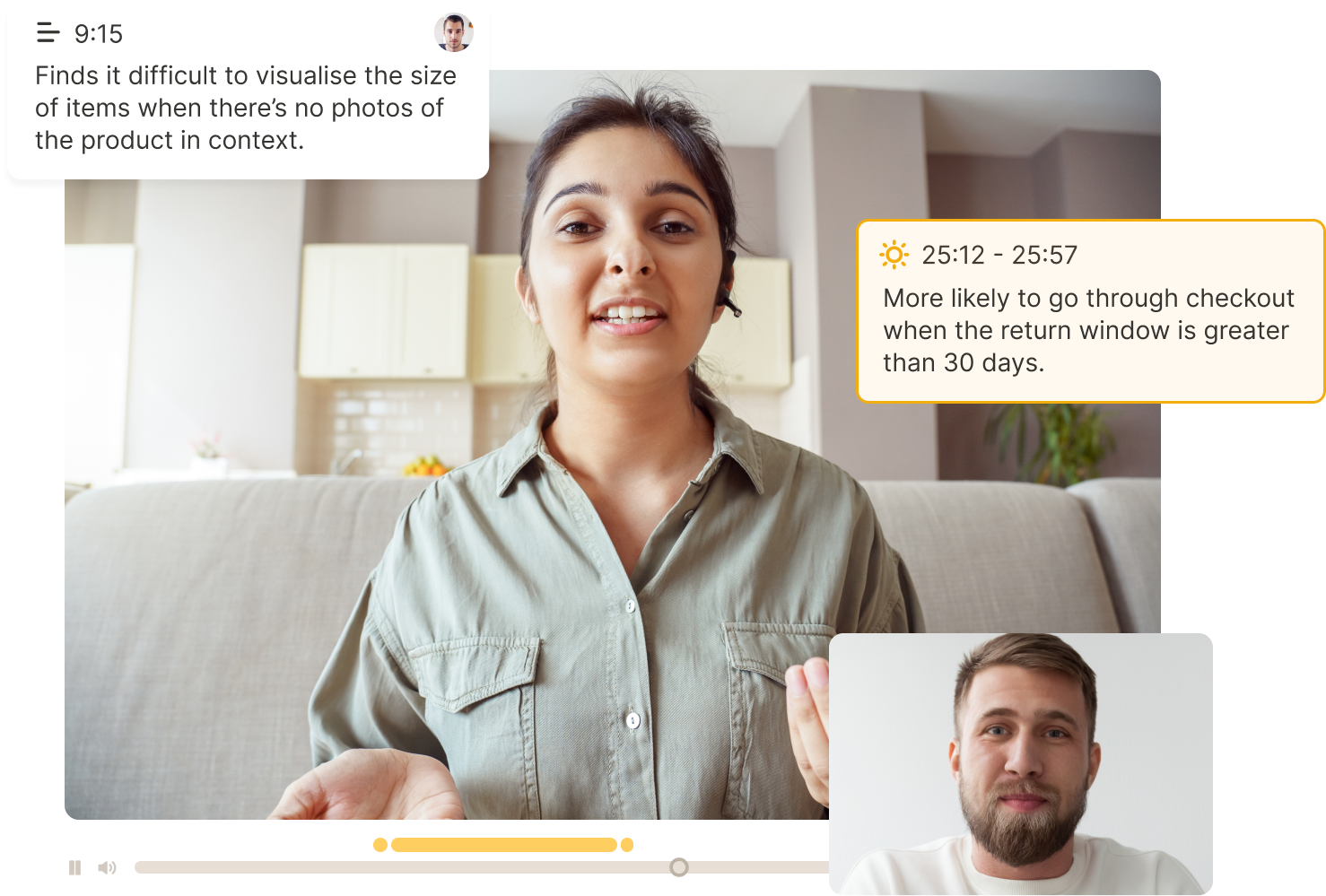 qualitative interviews
Uncover deeper insights
Lookback is the best way to conduct user interviews, capturing every detail and nuance from each conversation.
With transcriptions, highlight reels, and more, sharing insights from your interviews has never been easier.
Learn about Interview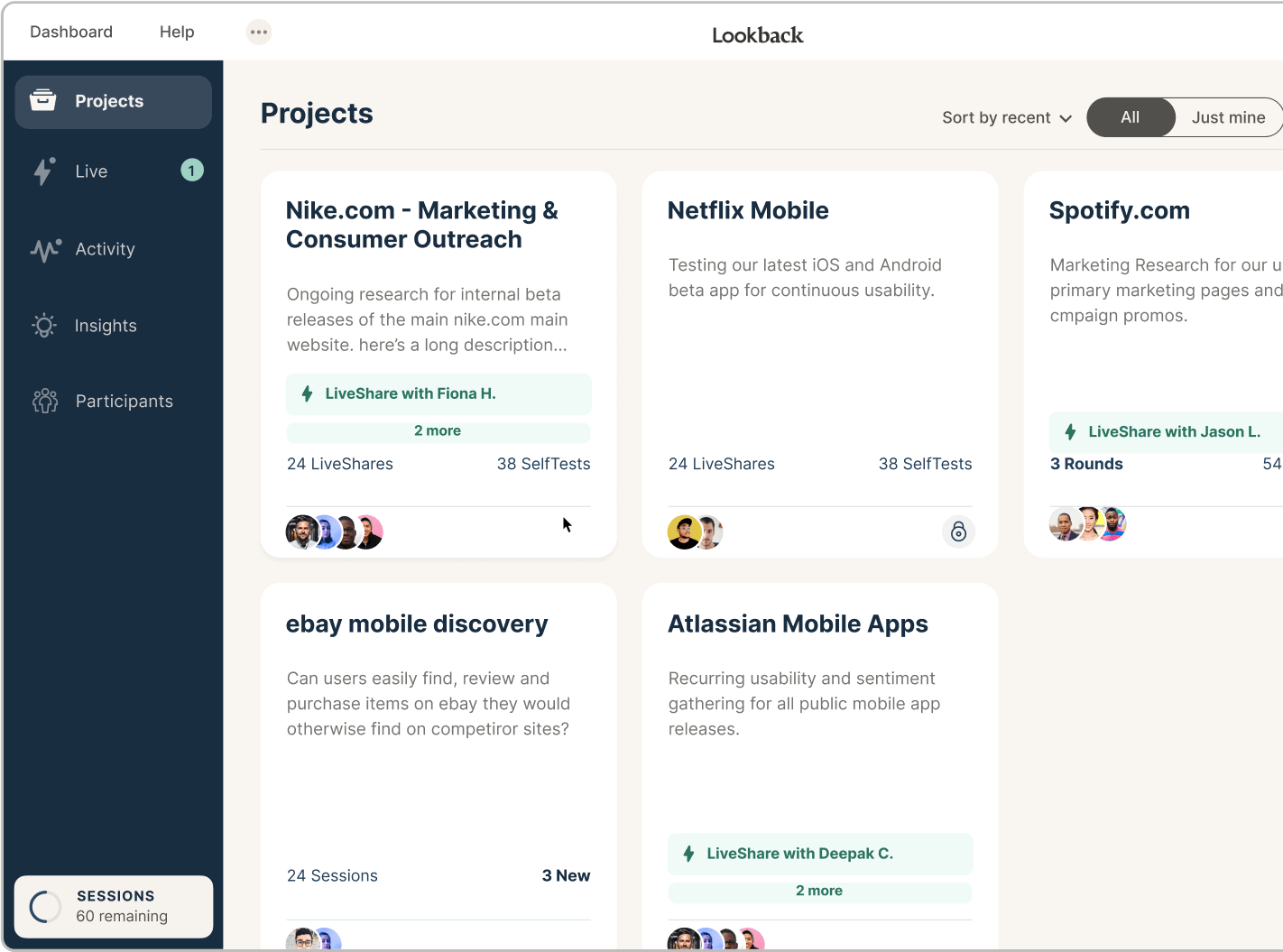 unlimited seats
No limit collaboration
With unlimited seats and projects on every plan, research has never been more open and accessible to everyone in your organization.
Say goodbye to expensive seat-based pricing, and hello to unlimited research reach. Research is better when we do it together.
ALL THE TOOLING YOU NEED
The UXR tool that supports your whole team's research needs
Run all your qualitative research

From remote ethnographic studies to unmoderated usability tests — conduct different types of research within the same project.

Upload your own research

Conducted studies outside of Lookback? No problem — Upload your own recordings to analyze in our player.

transcribe your sessions

View and download verbatim research sessions via AWS services; available in dozens of languages.

Invite via Public Links

Use Public Links to give access to live sessions or recordings to outside stakeholders and observers.

Create shareable highlight reels

Make highlight reels with clips from different sessions in just a few clicks. Share them as files or links.

participant recruitment integrations

Lookback supports end-to-end research workflows with your favourite participant recruiters, User Interviews and Respondent.
See why research leaders like you love Lookback
Lookback makes it easy to do what research does best: inspire new ways of thinking.
Talking to users through the platform, inviting stakeholders to join in real time and exporting highlights reels for dissemination has been life-changing for us at Nubank. We're not going back.

Carlos Hernandez Tellez
ux Research manager at nubank
We spun up a project to gather insights…literally within a week.
It's a simple process of plugging in a link.

Roy Olende
Head of Research at Zapier
I need the team to be in the live research sessions so that we can experience it all together.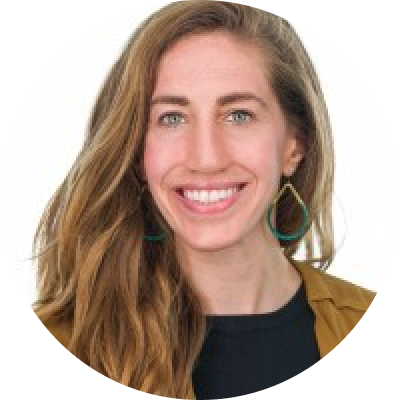 JAIME KORNICK
Principal UX Researcher at Intuit
See our Case Studies
When you have someone in a session, and you can hear the intonation and the pain in their voice, that stirs something in you.
ROY OLENDE
HEAD OF RESEARCH AT ZAPIER